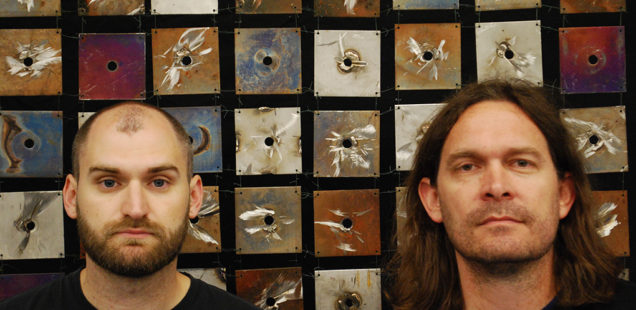 Pillars of Decay
May 14-20 will be the second leg of the Pillars of Decay tour. We're performing in Buffalo (Silo City, weather permitting), Cleveland, Cincinnati, Columbus, and Detroit.
Feb 14-18 will be the first leg of the Pillars of Decay tour. Trevor and I are taking the show to a tour of UW campuses in Whitewater, Oshkosh, Green Bay and Milwaukee.
Pillars of Decay, created and produced by the Skewed and Such duo, is a setting of music created for post-consumer instruments fabricated from salvage and scrap materials, realized and enhanced with technology. A concert-length show comprised of original works written for the project, Pillars of Decay is touring to both traditional concert spaces and rehabilitated venues in cities across the Midwest, in places like Buffalo, Detroit, and Milwaukee, where many of the old buildings and structures have been either forgotten or abandoned. The project is designed to celebrate the local individuals and communities that have found new purposes for the abandoned buildings, facilities, and materials in their neighborhoods.
Music for the project is composed by Amanda Schoofs, Matt Sargent, and the Skewed and Such duo (Trevor Saint and Jeff Herriott), and blended together into a seamless concert. Instruments include a rebar forest, with hanging pieces of rebar on metal trees; speakers embedded inside oil drums; sonified steel plates, fed with sine tones and other processed sounds; a table of threaded rods; a handmade metal quilt; bullet casing chimes; and various tubes, pipes, bowls, and other hanging metals.
The performance includes 11 connected segments of music, totaling 75 minutes. These segments consist of a combination of fully-composed pieces and highly structured improvisations. One of the primary formal ideas is canon, which is embedded in Matt Sargent's pieces Ash and Waves (there are multiples of each) as well in some of the structured improvisations such as Woven Fields, for threaded rods. We are also exploring connections to memory and loss, notions that are particularly related to Amanda Schoof's work, such as in Emergency for bullet chimes, emergency paper, and metal quilt. #pillarsofdecay.